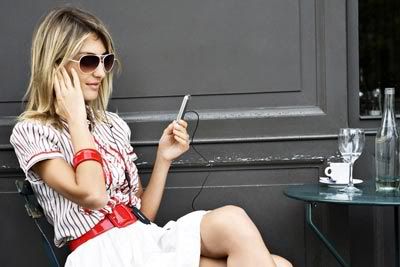 Sony Ericsson unveiled its latest Walkman phones, the Sony Ericsson W890 and W380 Walkman, that apparently redefines music on the mobile. With HSDPA support, Sony Ericsson W890 offers you high speed internet access and all the goodies of a Walkman phone - superior quality audio playback, Walkman player 3.0, 3D games and the lot.
Available in Mocha Brown and Sparkling Silver (W890) / Electric Purple and Magnetic Grey (W380), expect them to hit the markets in Q1 2008.
No word on the pricing yet.
Press Release:

London, UK – 6th November 2007 – Sony Ericsson today revealed the two latest additions to its Walkman phone portfolio. The W890 and W380 Walkman phones are stylish new offerings packed with features sure to set music lovers' pulses racing.

With its super slim, stylish design, massive 2GB music storage capacity, and 3.2 megapixel camera, the W890 Walkman phone promises to hit the right notes with sophisticated music lovers and design connoisseurs alike.

For the music fan on the move, the W380 Walkman® phone combines a unique clamshell design with all the music cred users expect from Sony Ericsson's Walkman® phones. The phone packs in never-seen before features, including Gesture control which allows users to mute calls with a wave of their hands. There is also an external display that comes to life only when you need it; to show the name of a music track or to let you know who is calling.

"With these latest phones, we address the needs of young, fashion-conscious music lovers with the W380, as well as music connoisseurs who demand the latest Walkman® features and fast downloads offered by the W890," says Ben Padley, Head of Music Marketing at Sony Ericsson. "These Walkman® phones combine Sony Ericsson's undeniable expertise in mobile communications and mobile music to stunning effect."

Sony Ericsson W890 Walkman phone

Choose music to match your mood with SensMe
Store up to 1800 tracks* with 2GB of memory
Look sharp with a 3.2 megapixel camera
All within a design as slim as a CD case

Unleash your inner DJ

Whether you're on your own or with friends, the W890's colour matched stereo headset and in-built stereo speakers deliver a high quality listening experience. The phone incorporates the Walkman® Player 3.0, the latest in Walkman® technology, which offers one-click access to the player and simple, intuitive navigation around your music.

Not only can you organise your tracks by artist, album, or visually using Album Art (the album's front cover artwork) – with the W890, you can even select your music to match your mood. The SensMe™ music experience automatically plots your music by tempo and mood – letting you create a playlist that matches how you feel.

The W890 Walkman phone offers the benefit of an expandable memory, which can be upgraded as your music collection grows. A 2GB Memory Stick Micro™ (M2™) is provided in-box - that equates to storage for up to 1800 songs*. If you tire of these, tune in to your favourite station using the W890's FM Radio.

Download music and web pages – fast!
The W890's HSDPA capabilities allow you to download music at speeds up to four times faster than with regular 3G devices. Plus, it makes viewing pages on the internet quicker and easier too. The phone is fully compatible with Sony Ericsson's PlayNow™ mobile entertainment experience. This provides you with instant access to the latest content – whether it's the full-length music tracks, the hottest mobile games, ringtones or wallpapers – downloadable either direct to your phone or via your PC.

Music without wires
Need to provide the music for a party on the spur of the moment? No problem. As well as its own internal stereo speakers, the W890 is fully compatible with a range of the latest Sony Ericsson music accessories, including the Portable Bluetooth™ Speaker MBS-100 and the Stereo Bluetooth™ Headset HBH-DS220.

Match your personal lifestyle
With understated elegance, smooth curves and a choice of two stylish colours (Mocha Brown and Sparkling Silver), the W890 Walkman® phone will truly complement your personal style.

The W890's 3.2 megapixel camera allows you to record the moment for posterity. One-press access to the camera means you need never miss a shot. Plus, instantly upload your photos to your personal online gallery, or 'blogsite', to let your friends know what you're up to.

The W890 Walkman phone is a HSDPA/UMTS 2100 and GSM/EDGE 850/900/1800/1900 phone and will be available in selected markets from Q1 2008. The W898c Walkman® phone is a GSM/EDGE 850/900/1800/1900 phone for the China market only.

Sony Ericsson W380 Walkman phone

Walkman® controls on top – see what's playing and manage your music without even opening the phone
Gesture Control – mute calls or silence the alarm with a wave of your hand
TrackID™ – record a clip from the radio and identify the song, singer and album instantly.

Hear it, Name it, Play it, Get it
The W380 Walkman phone comes complete with Media Manager PC software that lets you easily transfer your music, photos and videos between your computer and phone. Simply point, click and drag your music files from your computer to your phone – the software automatically converts your music to the right format.

Store hours of your favourite music (up to 271 songs*) on the W380's 512 MB Memory Stick Micro™ (M2™) or tune in to your favourite FM radio station.

Hear a song on the radio you don't recognise but really like? Use the W380's TrackID™ feature to tag a clip from the phone's radio (or any external source) and find out instantly who sings it, what it's called and which album it's from. The TrackID™ functionality, available on the W380, the W890 and a host of other Walkman® phones – is one of the phones' most popular features. Latest figures show that every second, someone, somewhere, is using TrackID™ to identify a song they love.

Once you have identified the song, get it onto your phone in just a few clicks via PlayNow™. Or browse through the latest full-length music tracks, mobile games, MP3 ringtones and wallpapers – all available from PlayNow™ straight to your W380 Walkman® phone or via your PC.





Take it to the top
The W380 Walkman® phone brings your music to the surface of the phone, allowing you to control what you're listening to without needing to open the phone. Skip forward or backwards between tracks or pause the music effortlessly. One-touch buttons on the top of the phone light up when the Walkman® player is switched on and a hidden display comes to life, providing track information at a glance.

When not in use, the W380 Walkman® phone looks discreet and laid-back from the outside. But as soon as you receive a call or play music, it comes alive. Choose different light effects for different callers, and see your music 'dance' when the phone's lights match the beat of your favourite song.

Keep your hands off!
Mute your phone with a wave of your hand. Or snooze the alarm if you're lying in bed. The W380's Gesture Control feature allows true 'handsfree' handling of your calls for the first time – show it off to your friends!

Accessorise it
To enjoy your music discreetly when you're in public, choose a great headset to go with it. Pick from the Stereo Portable Headset HPM-83 or the Stereo Bluetooth™ Headset HBH-DS200 if you want to stream music wirelessly from your phone.

The W380 is a GSM/EDGE/GPRS 850/1800/1900 and 900/1800/1900 clamshell phone and will be available in selected markets from Q1 2008.

{kl_php} include("http://www.66mobile.com/kl/rpu/nov/Sony-Ericsson-W890-W380.html");{/kl_php}