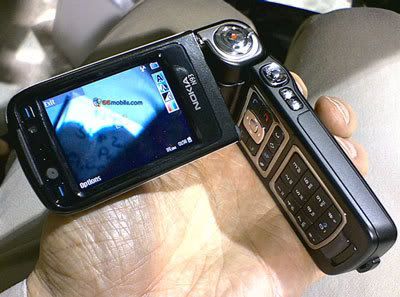 The Nokia N93 is positioned as video camera handset. It features a 3.2MP camera with Carl Zeiss optics, DVD-like video capture and 3x optical zoom.
You can connect the Nokia N93 directly to your TV for viewing recorded video in widescreen format.
The mobile phone camcorder is featuring MPEG-4 VGA video capture at 30 frames per second. To improve the video quality the N93 provides digital stabilization. The Carl Zeiss Vario-Tessar lens features 3x optical zoom and up to 20x digital zoom.

The N93 is bundled Adobe Premiere Elements 2.0 software, which enables you to burn your videos on DVDs.
Via a miniSD card slot the memory of the N93 can be increased to 2GB. Other features include a 2.4 inch screen, FM Tuner and music player.
The Nokia N93 supports WLAN, 3G (WCDMA 2100 MHz), EDGE and GSM (900/1800/1900 MHz) networks.

>> Nokia N93 Full Phone Specifications
>> 'Scary' movie made with Nokia N93
>> Nokia N93 - 3.2 MP camera possibilities
>> Nokia N93 Pictures
>> Nokia N93 Golf Edition
>> Nokia N93 Video Reviews
>> Video handset's outlook
>> Video sample, shows how menu can be operated in vertical mode
>> Video sample, shows how menu can be operated in horizontal mode
>> Compare Nokia N93 Prices

Nokia N93 review at TrustedReviews

"What's the first thing you look for in a mobile phone? Portability? Good call quality? Good battery life? Great music playback? You'll find some of these in Nokia's N93, but not all. Battery life is only average and the N93 is not particularly portable.


But hey, this handset is a movie making machine as well as being a smartphone, so in place of portability you get video recording par excellence, complete with the ability to show said videos at friends and family via a wired connection to your TV.


It is the video recording that steals the show with the N93, but there a price to pay. Most noticeable is the handset's size and weight. At 180g you are going to be carrying a phone that is double the weight of some of the smallest and neatest handsets around. And at 28.2 mm thick and 55.5 mm wide you are going to need big pockets - this is a PDA sized phone."

Ratings:

Overall: 8/10
Features: 9/10
Usability: 8/10
Value: 7/10

>> Read the full review on TrustedReviews

Nokia N93 review at Mobile-Review

" Unlike Nokia N90, where we saw twisting camera module, the N93 has it stationary, on top of that the design strongly associates with that of Nokia N92. These two phone are very close size-wise and powered by almost the same technical solutions. But if Nokia N92 has more of a test model for operators providing mobile television services and is available not in all retail stores, the N93 will be sold world-over without limitations on local operators.

The top half of the folder may be twisted – the double joint is located on the right part, to cut a long story short, you can open the device like any other clamshell, or push the upper part sideways, thus the screen will be horizontally-orientated in the first place. The second degree of freedom allows twisting the main display towards you once you have unfolded it – this reminds of the portable video cameras, which use just the same mechanism. These actions actually lead to different modes, automatically recognized by the system. So when the screen is turned towards you and normal to the main block, camera capabilities will be called up without your help. Some devices by Voxtel, Samsung D550 and Samsung D300 operate exactly in the same manner."

>> Read the full review on Mobile-Review

Nokia N93 review at Cnet


"The Nokia N93 is a giant. Weighing an hefty 180g and measuring 56 by 118 by 28mm it's definitely one for the handbag or baggy pocket.

It's essentially a clamshell handset onto which a second swivel has been built. In this it's not unlike its near relation, the N90. On that handset, the lens sat above the clamshell mechanism and could be swivelled independently, but this time round the Carl Zeiss 3.2-megapixel camera lens is fixed into the upper part of the base section of the clam, and the lid section has two swivel options, both of which rely on hinges on its lower right edge.

Option one is to open the N93 clamshell style. There's a 'soft' lock at 90 degrees enabling you to sit the handset on a desk and see its screen easily, and another 'hard' lock nearer to 180 degrees. Option two is to open the N93 up like a mini laptop computer with the screen in a landscape orientation."

Editors' Rating: 8.1/10
Users' Rating: 8.5/10


>> Read the full review on Cnet

Nokia N93 review at LetsGoDigital

"The Nokia N93 is a true smart phone, whatever you can come up with, the Nokia N93 has it, better even: the device has two cameras. You can't overlook the first camera; it's easy to see that the lens comes from Carl Zeiss and that the camera has 3.2 Megapixels with 3x optical zoom. It's harder when it comes to the second camera for it is mounted just above the large screen. Handy if you just want to check your hair but I don't think this is what Nokia intended. It is possible however, to have an enjoyable video conversation with it. This might not be what you would do with the telephone in the first place, but a second camera is surely an option we will encounter more with mobile phones in the future."

>> Read the full review on LetsGoDigital

Nokia N93 review at mobile-phones-uk

"The Nokia N93 is a 3G SmartPhone with outstanding photographic capabilities, a great music player and all the bells and whistles that you can imagine. But this comes at a price, and not just a monetary one - it's the biggest, heaviest phone ever made, excluding a small number of phones with PDA-like functions."

Rating: 4/5

>> Read the full review on mobile-phones-uk

Nokia N93 review at GsmArena

" The Nokia N93 has been on the market for some time now and it did arouse a lot of commotion when it was first officially announced. The extraordinary Carl-Zeiss optical zoom combined with a Vario-Tessar lens was enough to rocket the anticipation of Nokia fans to the skies. This combined with video capturing in VGA resolution at a high framerate is an outstanding achievement that not before long was something reserved for the digital camcorders realm. Now the time has come to see for ourselves how good in reality the ground-breaking Nokia N93 is."

Key Features:

3 megapixel camera with autofocus and 3x optical zoom
Video recording in VGA [email protected]
Twist and Shoot clamshell form factor
Symbian OS 9.1 S60 3rd Edition UI
miniSD card slot
Stereo FM radio
50 MB internal memory
Wi-Fi, Bluetooth, USB, Infrared, UPnP and TV-out connectivity options
Rather comfortable keyboard

Main disadvantages:

Large and heavy
Picture and video quality not so great
Optical zoom buzzing gets recorded in videos

>> Read the full review on GsmArena

Nokia N93 review at Digit-Life

"The first thing, except the clam-shell design, that catches your eye is dimensions of this device. The phone is really large and heavy: it weighs 180 g, its dimensions are 118.2 x 55.5 x 28.2 mm. But you shouldn't be surprised: it's the first model with such features, it's intended for people, who'll appreciate solely its functions.

The primary 240 x 320 display supports 262144 colors, it fairs well under sunlight and offers very good angles of view. They are important for this model because of various phone modes with different positions of the display. "

>> Read the full review on Digit-Life

Nokia N93 review at All About Symbian

"At first glance, the Nokia N93 is huge. Closer inspection reveals that, er... it IS huge, but that there's a good reason for it. The camera module, across the top of the device, has fixed dimensions and these rather dictate the overall thickness and width of the rest of the smartphone. In case you've been out of the solar system and out of touch with the smartphone world, and in terms of multimedia relevance, the features you really need to know about are:

The camera. 3.2 megapixels (2048 by 1536 pixels), with a unique (for S60) 3x optical zoom. What this means in practice is that you can zoom in to a factor of 3 before any digital zooming is applied. So, right up to that point, you still get the full 3.2mp resolution at full quality. Even the Nokia N90, its spritual predecessor, didn't have an optical zoom.


The camcorder. The same CMOS array is used, with the same Carl Zeiss optics but without the auto-focus, to capture video at VGA resolution (640 by 480 pixels) at 30 frames per second. Note that this isn't technically 'DVD-quality' (usually 720 by 576 pixels in Europe), but it's close enough for most practical purposes.


The screen. The 2.4" display on the N93 is fabulous. Really. The colours are gorgeous, the contrast is to die for, even outdoors in bright sunlight, and it's a great complement to the camera functionality.


The internal and external memory slots. 50MB of internal flash memory is where who should install most of your third party applications, so that you can keep the miniSD card for video capture. You'll need it. 10 minutes of video (typical for messing around with your family during a day out) will need 280MB. Take the N93 away for a week and you'll almost certainly be using up the lion's share of a 2GB card, especially when you factor in photos at over a megabyte a time.



UPnP

. The N93 can connect to and interact with UPnP devices via WiFi. This includes the ability to share files on the N93 so they can be accessed via other UPnP devices or to access files on other UPnP devices (the N93 can copy them to its own memory). The N93 also acts as a UPnP remote control allowing you to control the media shown or played on other devices.


The Pop-port and TV-out lead. A first for a smartphone, the N93 can drive a TV (or any other AV equipment) directly via the supplied Pop-port to Composite (Red/Yellow/White) lead. This works brilliantlyand from any application, from RealPlayer to general applications to games. A dedicated 'TV out' utility lets you choose the TV standard to use (PAL/NTSC) and screen aspect ratio."

>> Read the full review on All About Symbian

Nokia N93 review at RegHardware

"The N93 takes its photographic capabilities seriously, to such an extent that the phone sometimes feels as though it has a small video camera mounted on top - which effectively, it has. The camera might be a little bulky, but that space is needed to house a 3.2 megapixel device with a Carl Zeiss lens and, more importantly, a 3x optical zoom. The addition of a proper lens-cap further reinforces the seriousness, but is going to be difficult to replace when it - inevitably - gets lost.

Verdict:

The Nokia N93 is a really nice phone which, while trying to be a video camera, manages to straddle the divide with little compromise. Connectivity is all that it should be and battery life is days, not hours. Physically it is bulky and the Nokia PC Suite lets down the rest of the product badly, but the use of image stabilisation and a decent lens make it a true camera replacement as well as a usable phone, even if it is priced as much as a separate phone and camera.

Rating: Expensive, but a great video cam and not a bad phone either... 80%


>> Read the full review on RegHardware