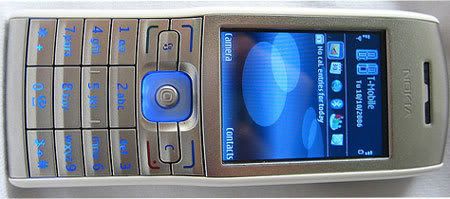 Nokia E50 features:

- Built-in 1.3 megapixel camera with 4X Zoom, Flash, Video Recording & Playback supporting a top resolution size of 1280 by 960 pixels.

- Built-in MP3 player with MP3 ringer support. Other formats supported are AAC.

- High speed internet surfing and multimedia downloads thanks to EDGE technology and a built-in WAP browser.

- Bluetooth support as well as Infrared Port for phone-to-phone communication and synchronization of files

- 70mb of internal memory and more can be added via a microSD/Transflash memory expansion slot.

- View and work with MS Office file attachments including MS Word, Excel, PowerPoint. Adobe PDF documents are also supported. This is made possible with built-in viewer software called QuickOffice.

- Built-in speakerphone in conjunction with the Nokia Team Suite allows conference calls and push-to-talk sessions with selected "team" members.

- System search allows you to search for text keywords and looks for files in Contacts, Emails and Messages list.

- Intellisync Device Management system allows advanced network administrators to remotely manage other OMA DM compliant business devices via a web-interface admin system.

- Downloadable games, ringtones, wallpapers, screensavers etc via J2ME.

- View streaming videos at fast speeds. Supported file formats include 3GP, MPEG4, H.263, RealPlayer and AMR.

>> Nokia E50 Full Phone Specifications
>> Nokia E50 Video Reviews
>> Compare Nokia E50 prices


Nokia E50 Review at GsmArena

"At first sight Nokia E50 strongly reminds of the Sony J70, which was a popular phone some years ago. Its long and narrow shape is quite distinctive. Probably the fans of J70 would enjoy the new E50 too. There are two versions of the handset, one with camera and one without. Their model names are respectively E50-1 and E50-2. Nokia wisely decided to launch a mid-to-low class Symbian smartphone as this is a huge market hole for people who need the features of a smartphone but cannot afford the more expensive ones. What is more, E50 performs very well. "

Main Features:

Narrow body and light construction
Very fast response of the user interface
1.3 megapixel camera with QCIF video
GPRS/EDGE, Bluetooth, USB and Infrared
70 MB internal memory
microSD memory card slot

Main disadvantages:

coarse joystick
no 3G
Switch On/Off button made badly
poor video recording

>> Read the full review at GsmArena

Nokia E50 Review at About-Nokia


"The first things that caught my attention was the high class material used, the bright display and the thin and ergonomic shape. Like the Nokia E60 the E50 is a very solid phone and has no gaps between parts. The battery cover is made of real metal! I agree with gsmarena when they say "the phone seems unbreakable".

Pros and key features
- Price
- Good display
- Lightweight and thin
- Solid, good construction
- Good HTMl browser
- 1.3 megapixel camera with QCIF video
- Bluetooth, USB and Infrared
- 70 MB internal memory
- microSD memory card slot

Cons
- No 3G
- No WiFi
- No radio


>> Read the full review at About-Nokia

Nokia E50 Review at yourmobilephonereviews.co.uk

"The user can connect to the Web & view Web sites in XHTML & HTML from the browser. The E50 comes with quad band technology which works on GSM 850, GSM 900, GSM 1800 & GSM 1900 over five continents & will switch between bands. The phone comes with Edge which provides a fast & effective data connectivity for the user. The user can connect to compatible devices using Bluetooth™ wireless technology, infra red connection or by using a USB cable connection. The user can connect using Bluetooth™, infra red & USB connection all at the same time."

>> Read the full review at yourmobilephonereviews


Nokia E50 Review at PhoneArena

"The joystick is nicely located between the system buttons and it's enclosed so that you can not make a mistake while using it. The surrounding area lights up when the backlight of the keypad in on, the color of which is blue. The backlight is weak and you can hardly see the numbers in the dark, while the letters are almost impossible to read, unlike the display. It is bright enough and well-lit thanks to the light sensor and it's clearly seen even in bright sun light. The display is a 2-inch one with a resolution of 240x320 pixels and can reproduce up to 262k colors, which are not very saturated. The pixels are small and pictures viewed on the screen look precise and detailed, but the contrast could've been stronger."

>> Read the full review at PhoneArena

Nokia E50 Review at About

"The following technical Nokia E50 review is based on a computer algorithm, it doesn't constitute a hands-on review. It outlines its pros and cons so you can make an informed decision. "

>> Read the full review at About

Nokia E50 Review at infosyncworld

" The combination of a bright high-resolution screen and a solid casing and keypad made for comfortable message typing and reading. The messaging management of the E50 is top-notch, and with 70 MB of internal memory there's room for plenty of messages. Sadly, support for advanced business e-mail is quite limited out-of-box, but at least a USB cable is bundled. The E50 also features a durable, user-friendly five-way joystick."

What's positive:

Solid keypad and joystick; compact form factor; excellent screen; powerful browser; great battery life

What's negative:

Lacks 3G capabilities; a minimum of productivity and advanced e-mail capabilities; mediocre multimedia features

Rating: 90%

>> Read the full review at infosyncworld

Nokia E50 Review at mobile-phones-uk.org.uk

"The Nokia E50 is not a phone apparently.According to Nokia's website it's a "business device". It's been designed as a kind of mobile office, but it's not a huge clunky device like the 9500 Communicator -it looks like a mobile phone! In fact, for a SmartPhone it's pretty light and slim."

Ratings: 2/5

>> Read the full review at mobile-phones-uk.org.uk