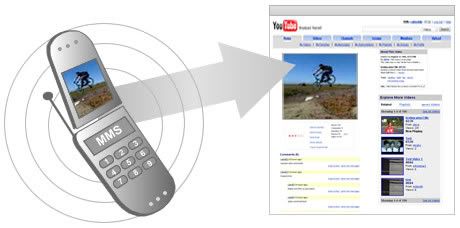 Vodafone, today announced an agreement with YouTube to offer Vodafone customers a YouTube experience on their mobile phones.

Launching in the UK initially, the agreement is expected to offer Vodafone customers in key markets across Europe the chance to access a version of the popular YouTube service directly from Vodafone live!

As part of the service, YouTube will provide a daily selection of new videos providing Vodafone customers with the entertaining experience they've come to expect from YouTube. Customers can forward links for their favourite videos to friends and family, upload their own content from their mobile phones and search across multiple categories.
"People want to view and share favourite YouTube videos seamlessly wherever and whenever they want," said Steve Chen, Co-Founder and Chief Technology Officer for YouTube. "Partnering with Vodafone will accelerate those efforts to serve our loyal YouTube users as well as allow new mobile audiences to enjoy YouTube."

"Today's announcement with YouTube further expands the range of Internet services we're bringing to the mobile, introducing a seamless experience that allows customers to engage with user generated content on the move," said Frank H. Rövekamp, Global Chief Marketing Officer, Vodafone. "Through attracting the most popular internet brands onto Vodafone mobile devices we will continue to ensure our customers can access and share the best entertainment anytime and anywhere."

Vodafone and YouTube will continue to explore ways to enhance this offering and cooperate closely in the coming months.

{kl_php} include("http://www.66mobile.com/kl/rpu/feb/Vodafone-YouTube.html");{/kl_php}