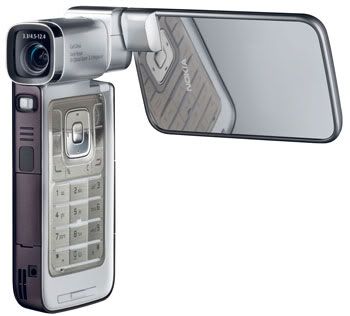 Nokia today introduced the Nokia N93i, a compact digital camcorder and multimedia computer in one. Boasting a host of features - from DVD-like quality video capture to direct video uploads - the Nokia N93i enables you to record great quality video.

"With devices such as the Nokia N93i, we believe that video can become a similar kind of mass market phenomenon as mobile photography has become," said Satu Ehrnrooth, head of Nokia Nseries Cameras Category, Multimedia, Nokia. "The slim and beautiful Nokia N93i is the ideal device for user-created video content, as it is a connected digital camcorder that is always with you. You can even instantly upload video clips in their original size directly from the device to online blogs or video communities. With the Nokia N93i, sharing your stories is now as easy as recording and viewing them."

You can shoot DVD-like quality videos with the Nokia N93i thanks to its MPEG-4 VGA video capture at up to 30 frames per second, stereo audio recording and digital stabilization. The Nokia N93i also boasts a 3.2 megapixel (2048 x 1536 pixels) camera with Carl Zeiss optics, 3x optical zoom, autofocus and close-up mode. With the 1 GB miniSD card included in the standard Nokia N93i sales pack, you can capture up to 45 minutes of DVD-like quality video or up to 1250 high-quality photos.

With its slim and compact design, the Nokia N93i is now even easier to slip into your pocket. It also has a new metallic finish keymat and a mirror effect cover. The 2.4" main display of up to 16 million colors has a 160° viewing angle, the easy-to-use joystick provides smooth video control and there are dedicated camera keys to capture images, switch shooting mode and operate the flash quickly and easily.

Integrated into the Nokia N93i is a new personal video and photo blogging service called Vox with privacy features that let you share stories and thoughts instantly with your friends, family, neighborhood or the entire world. Select your video or photos in the gallery of your Nokia N93i and upload them directly from your device to Vox in their original size.

Once you've finished filming, shape your story while it's still on the Nokia N93i with the on-device editing capabilities. For advanced editing, the standard Nokia N93i sales pack comes bundled with Adobe Premiere Elements 3.0 software, enabling you to create professional quality movies on your compatible PC. These videos can then be transferred back to your multimedia computer or burned to DVDs.

Get the popcorn out and have a communal screening of your very own blockbuster or latest photos. Simply connect the

Nokia N93i

to a compatible TV with the supplied video-out connectivity cable, dim the lights and enjoy the show. Or if you prefer the wireless route, use the integrated wireless LAN (WLAN) technology to connect to a compatible UPnP (Universal Plug and Play) enabled device.

The Nokia N93i is far more than just a digital camcorder - work or play, it delivers just what you need. Designed to work on WLAN, 3G (WCDMA 2100 MHz), EDGE and GSM (900/1800/1900 MHz) networks, the Nokia N93i provides mobile broadband internet access for browsing, uploading content, and sending and receiving emails, allowing you to stay connected on the move. You can also keep yourself entertained with MP3 music, podcasts, stereo FM radio or mobile TV video streaming.

Slimmer and more compact in design, the Nokia N93i follows on from the success of the Nokia N93, which has received numerous awards and accolades, including 'European Media Phone of the Year 2006-2007' by the European Imaging and Sound Association (EISA), 'Innovation of the Year 2006' by Digital Video as well as 'Editor's Choice 2006' award by American Photo, to name just a few.

The Nokia N93i, which is based on S60 3rd Edition software on Symbian OS, is expected to start shipping in volumes during the first quarter of 2007 with an estimated, pre-tax, unsubsidized sales price of approximately 600 euros.

>> Nokia N93i Full Phone Specifications