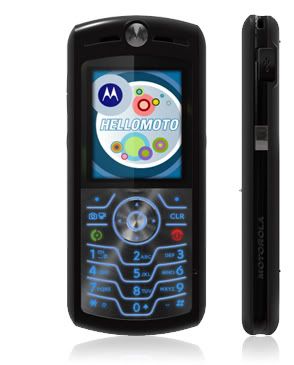 Motorola is finally bringing its SLVR handset line to the CDMA standard. The Motorola SLVR L7c was announced today and is rumored to be heading to both Verizon Wireless and Sprint PCS. The SLVR L7c introduction came along with a slew of other handsets, including the RAZR MAXX, KRZR, RIZR and RAZR XX.
Slip broadband-like connectivity into your shirt pocket with the MOTOSLVR L7c. Packing high-speed CDMA 1x EV-DO connectivity into the elegant and slim SLVR design, the L7c boasts timeless beauty, rich multimedia, location-based services (LBS) and hands-free convenience via Bluetooth® wireless technology making the MOTOSLVR L7c the premium mobile companion.
Lose yourself
Optimized for your entertainment, the MOTOSLVR L7c offers a full suite of multimedia features. Whether you're at home or on-the-move, the L7c lets you download or stream multimedia and music content and then enjoy it on the large 1.9 inch color display. Listen to the latest tunes via the integrated MP3 player and store your favorite tracks to the optional removable microSD™ card to add hours of playtime. Or get creative on-the-go with BREW™ technology for browsing and downloading new content, ringtones, games and software over the air – no wires or computer necessary.
Find your way

Featuring integrated sGPS technology, the MOTOSLVR L7c provides optional location-based services applications for the ability to identify your current location, then guide you where you want to go1. Equipped with Bluetooth wireless technology, the L7c is ready to connect with an ever-growing selection of optional compatible Bluetooth enabled accessories that allow you to talk hands-free in a variety of environments, whether on foot, in the car or in the office.

Capture the moment, and share it

Capture, carry and share your favorite moments wherever you go. The MOTOSLVR L7c lets you record live events in photos or video clips with the built-in VGA camera with 8x digital zoom, then share them with friends via multimedia messaging (MMS) and store them to the optional memory card.


Summary of Features

Sleek, super-thin design without sacrificing advanced functionality
Integrated VGA camera with 8x zoom and video capture and playback
Bluetooth® wireless technology enables you to lose the wires with a compatible Bluetooth enabled phone
MP3 player to store, repeat, shuffle and play favorite tunes; 22Khz polyphonic speaker
microSD™ removable memory slot
WAP 2.0
Downloadable wallpaper, screensaver, ringtones, and applications
BREW 3.1.2
Integrated hands-free speakerphone
Messaging via SMS and MMS1
Location-based services (LBS) applications
Streaming video and audio