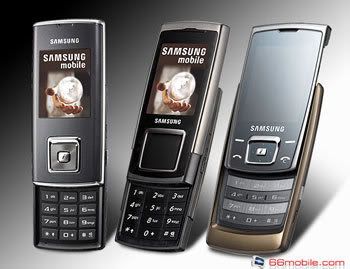 Samsung unveiled three new mobile phones targeted at Southeast Asian consumers.

The SGH-E950 is a powerful 3-megapixel camera phone equipped with an touch navigation user interface, while the SGH-E840 boasts a slim frame at 10.6mm and a glossy mirror-like surface. The SGH-J600 comes with an 1.3-megapixel camera, and comes in a variety of vivid, lively colours.

One of the common features available in all three phones is the Touch Sensitive Keypad. Unlike ordinary keypads, Touch Sensitive Keys respond to just a light sweep of the fingers, and the back-lit keys automatically illuminate in blue when you slide up the phone.

"Integrating beauty and technology in a mobile phone is something Samsung has always prided itself on. I believe that our latest portfolio of fashion phones - the SGH-E950, E840 and J600 - presents our users a selection of mobile phones which truly epitomises the phrase 'beautiful technology'. I am confident that with their striking designs, ease of use and uncompromised performance and functions, Samsung's latest fashion phones will appeal widely to our Southeast Asian customers," said Mr. Geesung Choi, President of Samsung's Telecommunications Network Business.
SGH-E950
While the SGH-E950 is reminiscent of the elegant design and luxurious surface material of the successful SGH-E900, it features improved design and functions. Equipped with an enhanced touch-panel input method, the phone's icons change with the function displayed in the main screen to maximize ease of use. It also adopts newly-developed graphical user interface along with more powerful multimedia features an enhanced music features,3.2-megapixel camera and more efficient email and internet access, and hassle-free file downloads. Its luxurious metal-finish is something consumers will lust after.



SGH-E840
The slimmest slider in the world, SGH-E840, is a gem of a handset. With is super-thin frame of 10.6mm and astonishing mirror display, the SGH-E840 stands out on every aesthetic level and satisfies the fashion-savvy's exquisite taste and sense of style. Hidden beneath the slider is an encased touch keypad, while the metalfinished, tempered glass exterior boasts flash and substance.

The SGH-E840 also features the latest NF v3.4 internet browser - an embedded Web micro browser specifically made for handset use. Versatile and powerful, it displays Web pages on a vertical, scrollable screen,letting users zoom in and out from 25% - 100% for easy viewing.

The SGH-E840 is available in Ice Silver, Candy Pink, Topaz Gold and Noble Blue.



SGH-J600
The first thing you notice about the SGH-J600 is its intense hues that are enhanced by its glazed surface design and chrome metal trim. Consumers can choose from a selection of mystical colours available in Dark Gray, Purple Blue, Cool Silver and Coral Pink.

Enjoy multimedia freedom to capture your favourite photos and tunes with the SGH-J600's 1.3?Megapixel, 4x digital zoom camera that shoots high quality colour images and a multi-format music player - MP3, AAC, AAC+ and e-AAC+, and an external memory slot (MicroSD).



The E950 will be available in Southeast Asia from July, while E840 and J600 have been launched this month in select Southeast Asian markets.

Learn more about Samsung's mobile technology and handsets at www.samsungcommunicasia2007.comand visit us at Hall 3, Stand 3L3-01 at CommunicAsia, Singapore.

{kl_php} include("http://www.66mobile.com/kl/rpu/iunie/Samsung-E950-E840-J600.html");{/kl_php}