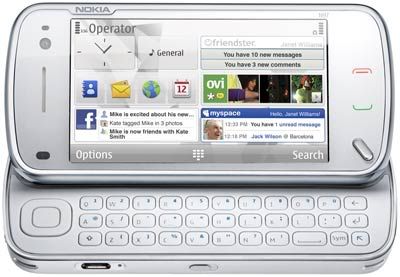 Nokia today unveiled the Nokia N97 designed for the needs of Internet-savvy consumers. The Nokia N97 combines a large 3.5" touch display with a full QWERTY keyboard. Nokia's flagship Nseries device introduces leading technology - including multiple sensors, memory, processing power and connection speeds - for people to create a personal Internet and share their 'social location.'
The Nokia N97 supports up to 48 GB of storage, including 32 GB of on-board memory, expandable with a 16 GB microSD card for music, media and more. This is complemented by excellent music capabilities, full support for the Nokia Music Store and continuous playback time of up to 1.5 days. The Nokia N97 also has a 5-Megapixel camera with high-quality Carl Zeiss optics, 16:9 and DVD quality video capture, and support for services like Share on Ovi for immediate sharing over HSDPA and WLAN.
The Nokia N97 is expected to begin shipping in the first half of 2009 at an estimated retail price of EUR 550 before taxes or subsidies.
"From the desktop to the laptop and now to your pocket, the Nokia N97 is the most powerful, multi-sensory mobile computer in existence," said Jonas Geust, Vice President, heading Nokia Nseries. "Together with the Ovi services announced today, the Nokia N97 mobile computer adjusts to the world around us, helping stay connected to the people and things that matter most. With the Nokia N97, Nseries leads the charge in helping to transform the Internet into your Internet".



Sensing your 'So-Lo'
The Nokia N97 introduces the concept of 'social location'. With integrated A-GPS sensors and an electronic compass, the Nokia N97 mobile computer intuitively understands where it is. The Nokia N97 makes it easy to update social networks automatically with real-time information, giving approved friends the ability to update their 'status' and share their 'social location' as well as related pictures or videos.



Widescreen - Internet and entertainment
The home screen of the Nokia N97 mobile computer features the people, content and media that matter the most. Friends, social networks and news are available by simply touching the home screen. The 16:9 widescreen display can be fully personalized with frequently updated widgets of favorite web services and social networking sites. The Nokia N97 is also perfectly suited for browsing the web, streaming Flash videos or playing games. Both the physical QWERTY and virtual touch input ensure efficiency in blogging, chatting, posting, sending texts or emailing.

Nokia N97 video:

{mosmodule video=http://www.youtube.com/v/AD-elt8MN3I}