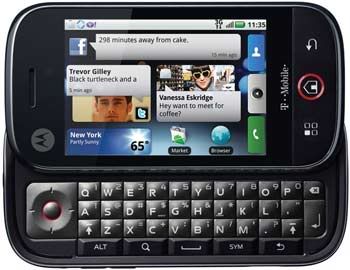 Motorola today unveiled, the Motorola DEXT with MOTOBLUR, the first device in the company's Android-powered product portfolio. Motorola DEXT is the only mobile phone to automatically organise and deliver messages, contacts and favourite content – regardless of source – directly to the device home screen in easy to manage streams.
A QWERTY slider, Motorola DEXT features:
Touch screen capabilities
5 megapixel camera with autofocus and connected to Facebook, Picassa, Photobucket or MySpace for uploading
Video speed of 24 frames per second , as well as playback capability for YouTube videos
A full HTML browser, 3G speed and Wi-Fi
A 3.5 mm headset jack for your own headphones and easily connect to your music, create your own playlist or discover new music by seeing what your friends are listening to on LastFM
Packed with Google Mobile Services: Maps, Talk, Mail, Voice Search, Integrated GPS for turn by turn directions and a rich HTML browser
Access to thousands of applications through Android marketplace
A removable 2GB MicroSD card
Supports up to 32GB MicroSD for all of your photos, music and more
DEXT will be available exclusively launching with Orange in the United Kingdom and France, Telefonica in Spain and America Movil in Latin America. Known as CLIQ in North America, the device will be available exclusively with T-Mobile USA.

BASINGSTOKE, United Kingdom – Sept 10, 2009 – Motorola, Inc. (NYSE: MOT) today unveiled the vision behind its Android-powered portfolio with the introduction of MOTOBLUR.

Developed by Motorola, MOTOBLUR is the first and only solution to synch contacts, posts, feeds, messages, e-mails, photos and more—from sources such as Facebook®, Twitter, MySpace, Gmail™, Yahoo, your work e-mail and LastFM – and automatically deliver it all to the home screen. Sanjay Jha, co-CEO of Motorola and CEO of Motorola Mobile Devices, announced the news today at the GigaOM Mobilize conference in San Francisco.



Also announced today was the Motorola DEXT™ with MOTOBLUR, the first device in the company's Android-powered product portfolio. Motorola DEXT is the only mobile phone to automatically organise and deliver messages, contacts and favourite content – regardless of source – directly to the device home screen in easy to manage streams.

"MOTOBLUR, which will be available on multiple Motorola Android-powered devices in our upcoming portfolio, helps us to create phones that are instinctive, social and connected," said Ralf Gerbershagen, vice president and general manager of Motorola Western Europe.

"Today's mobile phone needs to be more than just 'smart'. It needs to be social. The DEXT is such a phone, offering the ability to funnel your entire social life into a single stream."



MOTOBLUR leverages Motorola's experience in mobile Linux and open platforms and benefits from the global MOTODEV program that supports developers creating a new generation of rich user experiences for Motorola handsets featuring the Android operating system.

For specific regional availability and pricing, contact your local Motorola representative. To experience DEXT with MOTOBLUR, please visit www.motorola.com/motoblur. For the latest product news and promotions, now you can also find us on Facebook and follow us on Twitter.

ABOUT MOTOBLUR
Life: Organised, Streamed and Delivered

With MOTOBLUR, all conversation threads, friend updates, stories, links, photos and more are automatically delivered to live widgets on the home screen. There is no need to open and close different apps or menus. It's all organised, streamed and delivered throughout the device in unexpected ways:

Happenings: View all your social site updates in one spot with the live Happenings application. Every friend feed, status update, wall post, bulletin and photo upload is automatically delivered and ready for immediate reply, anyway you like

Messages: Quickly scroll through the Messages application for a snapshot of current work or personal emails, social site messages, and texts, with the ability to respond to any message however you want no matter how it was sent: text, email, instant messenger and more.
Social Status: Blast your status right from the home screen and even save time by updating your status to one or all your social networks at once
News Feeds: Keep track of your favorite news feeds, sports scores or even celebrity gossip without leaving the homescreen
Calendar: Integrate your work calendar with Google Calendar™ into one widget that shows the next appointment right from the home screen

Integrated Contacts with Context

MOTOBLUR keeps track of all contacts so it's easy to keep up. Contacts are automatically synced to the phone from personal and work email as well as social network accounts, and MOTOBLUR updates any changes friends or contacts make to their info so you don't have to. When making or receiving a phone call, your friend's latest profile picture and status is shown on the screen. In the contacts view, see your communication history with each person and their latest social network broadcasts organised in an easy to read manner so you'll always know that latest info about friends and family. Plus, communicate with them anyway you like, directly from their contact information.

Backed Up for Peace of Mind

MOTOBLUR is easy to set up and secure, so there is no need to worry about misplacing the phone. All contacts, log-in information, home screen customisations, email and social network messages are backed-up on the MOTOBLUR secure server. Lost or stolen phones can be found with integrated AGPS from the online owner's portal, and data can even be wiped clean. Simply enter the account username and password on your next MOTOBLUR phone, and all the information will be ready and waiting.

Customise with Apps and Widgets

On Motorola DEXT, mix and match thousands of apps and widgets from MOTOBLUR, Android Market™ or pre-loaded Google™ mobile services. Everything from messages to news feeds to sports scores to the Happenings widget to Google Maps™ can be added to create custom home screens that fit your multi-faceted life.

Motorola Media Link Bridges Digital Worlds

Motorola is also making it easier to manage your digital worlds with Motorola Media Link. This desktop experience connects your phone, PC and the web giving users the ability to manage, secure, share and extend your phone's media. Transfer and organise media such as photos and videos into albums and sync your iTunes and Windows Media playlists and music. Plus, Motorola Media Link helps you expand your phone with new downloads, applications, ring-tones, wall papers and more – directly from your desktop. Motorola Media Link will be available on multiple Motorola devices including DEXT.

{mosmodule video=http://www.youtube.com/v/nB4k9EqiWe4}