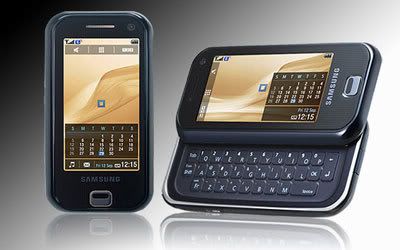 Samsung today unveiled new additions to its Ultra Edition range of phones - F700, F520, F510, F500 and F300.

"The new Ultra range is set to become the ultimate standard-bearer for Samsung's mobile products by combining form, function and fun," said Geesung Choi, President of Samsung's Telecommunication Network Business. "These multimedia driven handsets are designed for consumers who wish to stand out from the crowd, showcasing unrivaled performance, advanced functionality and world-class design."

The Samsung F700 aspires to be the easiest to use multimedia handset on the market with tender touch keypad and a surplus of multimedia functionality, including a 5 megapixel camera and up to 7.2 Mbps High Speed Downlink Packet Access (HSDPA). Meanwhile, Samsung's F520 boasts an innovative dual slider design and full internet browsing to ensure a truly connected and enriched mobile multimedia experience.
- Samsung F700 Full Phone Specifications
- Samsung F520 Full Phone Specifications
- Samsung F510 Full Phone Specifications
- Samsung F500 Full Phone Specifications
- Samsung F300 Full Phone Specifications



Samsung's F510, F500 and F300 showcase an innovative dual face LCD design to allow for optimum viewing of their extensive multimedia features - on one side users can enjoy dedicated multimedia functions and on the reverse side LCD screen mobile phone functions are accessible - without compromise between the two. Samsung's F300, the Ultra Music phone, is a complete music player with superb sound quality and an enhanced music user interface. At the same time, Samsung's F500 offers the latest in video features with a large LCD for viewing purpose, DivX codec, all accessible through its unique swivel design. And the F510 builds on the success of the F500 and additionally supports the Digital Video Broadcasting - Handheld (DVB-H) standard.


Samsung F500






Samsung F700
Samsung has applied its legendary expertise in human interface engineering and design to the Samsung F700, which boasts a full touch screen, touchpad interaction and QWERTY key pad. Using the new F700, business and creative professionals are able to view content on a 2.78" stunning color display. The device features first class entertainment with a top-of-the-line auto focus 5 megapixel camera and 7.2 Mbps HSDPA capabilities, making it easier to watch videos, listen to songs, take high-quality photos, browse the internet, or catch up on email while on the move.



Samsung F520
The Samsung F520 features an innovative and sensitive touchpad that accurately recognizes human touch. Used for menu navigation, the device disregards the conventional need for a stylus. The F520 supports a large 3" wide screen as well as a 3 megapixel camera. It also features an innovative dual slider design for messaging, which easily switches between QWERTY and conventional key texting by automatically switching between horizontal and vertical screens. The phone also connects across EDGE and incorporates full Internet browsing as well as high-speed connectivity through HSDPA. This facilitates faster connections for functions such as messaging, instant messaging and internet chatting.



Samsung F510
Samsung's F500 is the ultimate personal multimedia device with a smart design and cutting-edge features, ideal for consumers on-the-go. The F500 features dual LCD faces - one side is designed to make phone calls while the other contains a large screen and dedicated multimedia controls for clear content viewing. The F500 allows users to view a large array of video content including MPEG-4, H.264, WMV and AVI files. It also has a PMP function with a 2.4" wide screen as well as a 2.0 megapixel camera. With an internal memory of 410 MB and expandable memory up to 2GB (with microSD™ card) the F500 allows the user to view approximately two movies (each about two hours long).



Samsung F300
Samsung's F300, the Ultra Music phone, is an iconic handset bar designed with an added twist: dual LCD screens. Samsung's F300 is equipped with a digital power amp, which offers a dedicated music user interface on one side, making it easy to navigate through song lists. Additionally, it comes equipped with a stereo FM radio and a Quick PC Sync, allowing users to create a music library and customized play lists. On the reverse side, the F300 has all the extra features consumers have come to expect, including a 2 megapixel camera, extended battery life and Bluetooth technology.

{kl_php} include("http://www.66mobile.com/kl/rpu/feb/Samsung-F700-F520-F510-F500-F300.html");{/kl_php}