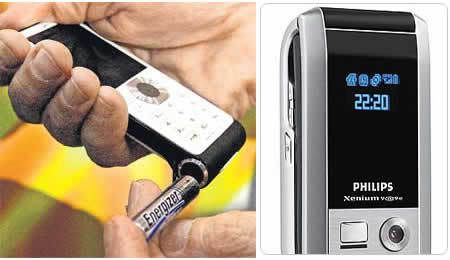 Philips, Energizer and Techtium announce the introduction of the new AAA BackuPower capable mobile phone.
The new Philips Xenium NRG will be the first commercially available mobile phone capable of taking advantage of Techtium's AAA BackuPower technology. The Xenium NRG is powered by a standard cell phone battery, however, the BackuPower feature enables instant charging of the battery by inserting any type of standard sized AAA battery.
The Philips Xenium NRG uses an added cavity to store a normal AAA battery that acts as backup power source that adds about 3 hours of talk time to the phone. The phone can use either alkaline or rechargeable batteries, and best of all, when you plug the phone into its normal recharger, the rechargeable AAA batteries automatically power up as well.

Press Release:

Philips, the world leader in long battery life mobile phones represented by its Xenium range, Energizer, the world's leader in portable power products, and Techtium, the first company to provide instant BackuPower(TM) anywhere and anytime to the mobile phone industry, are pleased to announce the introduction of a new and exciting portable power device: the AAA BackuPower(TM) capable mobile phone.

The new Philips Xenium NRG is the first extended power range model and will be the first commercially available mobile phone using Techtium's BackuPower(TM) - the new backup embedded charging technology for mobile devices. The Philips Xenium range of phones already provides a remarkable standby time and talk time of up to 1 month and 10 hours respectively with its built-in battery, all on a single charge.

Thanks to BackuPower(TM), the latest Philips Xenium NRG -- which is powered by a lithium-ion battery -- now has an added feature further extending customers' peace of mind. BackuPower(TM) provides users with a remarkably simple solution for instantly recharging their phones: by inserting any type of standard sized AAA battery -- alkaline, NiMH rechargeable or the new and recommended Energizer(R) e2(R)Lithium (R) -- in the phone's easily accessible cavity, the Philips Xenium NRG phone is instantly recharged and users are granted with an extra few hours of talk time. Use of the BackuPower(TM) feature with Energizer (R) e2(R)Lithium (R) AAA battery further extends the Philips Xenium's unsurpassed battery performance and achieves an additional talk time of up to 3 hours* and standby time of up to 1 week*. With this added power, users can continue to enjoy mobile multimedia such as listening to FM radio, playing music, making video recordings and taking pictures. Heavy phone users can now have the reassurance they need that their phones can be instantly powered-up by simply inserting a single AAA battery**, readily available anywhere.

Even with this added-on battery solution, there is absolutely no compromise on the Philips Xenium NRG's slim and compact form. It offers users a whole new level of convenience and helps them stay productive for longer and keeps them ahead of the competition.

Techtium's BackuPower(TM) is a unique hybrid battery management technology that solves the most frustrating cell phone problem: a dead battery. Techtium's BackuPower(TM) is a mixed-signal IC with patented charging and battery type detection algorithms capable of bi-directional recharging. With Techtium's revolutionary technology, when a rechargeable standard sized battery is inserted into a phone's cavity, it too shall be recharged simultaneously with the main battery when the phone is connected to an external charger. With BackuPower(TM), customers are ensured that the phone has the backup power needed in order to stay always on.

Techtium's external BackuPower(TM) is currently used in Energizer's new Energi To Go(TM), a battery-powered external Instant Cell Phone charger. The Energizer(R) Energi to Go(TM) is a light-weight, portable device that enables calls to be placed within 30 seconds of activation.

Continuing its long tradition of innovation, Energizer is excited to partner with both Techtium and Philips on this revolutionary new technology. To maximize the backup capabilities of the Philips Xenium NRG, the Energizer e2 Lithium AAA -- the world's longest lasting battery in high-tech devices, is the ideal battery.

Energizer e2 Lithium batteries provide the longest lasting performance when used in other high-tech devices, including MP3 players, wireless headsets, LEGO(R) MINDSTORMS(R) NXT Robotics Tool Kits, Apple Mighty Mouse, GPS systems and CD players. In digital cameras, Energizer e2 Lithium batteries take up to 630 pictures vs. up to 90 with leading ordinary alkaline batteries (AA only. Results vary between cameras).

* Specification indicated is based on initial full battery charge tested in laboratories. Actual performance is dependent on network service provider coverage and usage.

** Alkaline, NiMH Rechargeable or Energizer Lithium.

Energizer Holdings, Inc. (NYSE: ENR), http://www.energizer.com , headquartered in St. Louis, Missouri, is one of the world's largest manufacturers of primary batteries, battery-powered devices and flashlights. Energizer, a global leader in the dynamic business of providing portable power geared toward the new digital age, offers a full portfolio of products including, the Energizer(R) MAX(R) premium alkaline brand; Energizer(R) e2(R) Lithium(R), the world's longest lasting AA and AAA batteries in high-tech devices, and Energizer(R) e2(R) Titanium Technology(R) performance brands; Nickel Metal Hydride (NiMH) Rechargeable batteries and chargers; and miniatures brand batteries.

The Energizer product line also includes specialty batteries for hearing aids and medical devices, as well as for keyless remote entry systems, toys and other uses. Through its flashlight unit, Energizer brings innovation to this important household device. Energizer continues its role as technology leader as it launches Energizer(R) Energi To Go(TM), portable battery-driven power packs for cell phones.

Techtium Ltd., http://www.Techtium.com , Founded in 1995, Techtium Ltd. is a privately held semiconductor company that is developing a new battery management technology to redefine battery management standards. Its goal is to enable full confidence in the power available for portable devices and to increase mobility for wireless and portable devices.

About Royal Philips Electronics

Royal Philips Electronics of the Netherlands (NYSE: PHG, AEX: PHI) is a global leader in healthcare, lifestyle and technology, delivering products, services and solutions through the brand promise of "sense and simplicity". Headquartered in the Netherlands, Philips employs approximately 121,700 employees in more than 60 countries worldwide. With sales of EUR 27 billion in 2006, the company is a market leader in medical diagnostic imaging and patient monitoring systems, energy efficient lighting solutions, personal care and home appliances, as well as consumer electronics. News from Philips is located at http://www.philips.com/newscenter .

About CEC

China Electronics Corporation (CEC) engages mainly in four business fields: semiconductor & electronics components, computer software/hardware & system integration, telecommunication network & terminals, and digital home appliances. CEC has recorded outstanding performance in its related business fields. News from CEC is located at http://www.cec.com.cn .

Philips and CEC Sign Definitive Agreement to Transfer Remaining Philips Mobile Phone Activities to CEC.

On Feb 12, 2007, Royal Philips Electronics and China Electronics Corporation (CEC) signed a definitive agreement to transfer Philips' remaining Mobile Phone activities to CEC. CEC will take over the responsibility for Philips' Mobile Phones business, which had 2006 sales of approximately EUR 320 million and has approximately 240 employees, mainly in Asia Pacific and Eastern Europe. The "Xenium" brand, which is associated with long-battery life, will be transferred to CEC under the terms of the agreement. CEC will receive an exclusive license to market and sell mobile phones under the Philips brand for the coming five years. Certain mobile phone-related patents will be transferred and licensed to CEC. In addition, Philips will transfer to CEC its existing marketing network in some key countries for the mobile phone business, as well as its 25% equity stake in Shenzhen Sangfei Consumer Communications Co. Ltd.

This transaction is conditional on all required shareholder, government and regulatory approvals and consents and is expected to be closed by the end of the first quarter 2007.

Forward-looking statements

This release may contain certain forward-looking statements with respect to the financial condition, results of operations and business of Philips and certain of the plans and objectives of Philips with respect to these items. By their nature, forward-looking statements involve risk and uncertainty because they relate to events and depend on circumstances that will occur in the future and there are many factors that could cause actual results and developments to differ materially from those expressed or implied by these forward-looking statements.

{kl_php} include("http://www.66mobile.com/kl/rpu/apr/Philips-Xenium.html");{/kl_php}