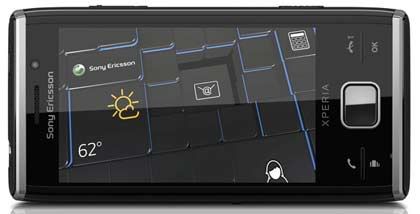 Today Sony Ericsson announced the XPERIA X2 a new Windows phone. The XPERIA X2 includes a SlideView feature, which provides quick access to frequently used phone activities, 14 specially designed preloaded XPERIA panels and 16 more to download like Skype, Mytopia and Google, games, CNN, Windows Live, YouTube and more.
SE Xperia X2 main features:
Windows Mobile 6.5
Slide view – quick access to frequently used phone activities and overview of missed incoming activity
Present documents on the big screen – TV out cable
XPERIA exclusive travel insurance
3.2" high resolution touch screen and DVD quality
8.1 mega pixel camera with Photo light – upload images to web albums
Real 3D panel – 3D effects and zoom, music playback controls
XPERIA X2 supports GSM/GPRS/EDGE 850/900/1800/1900 and UMTS/HSPA 850/900/2100. XPERIA X2 will be available from early Q4 in the colours Elegant Black and Modern Silver.

Press Release:

London, UK – September 2, 2009 – Today Sony Ericsson announces the XPERIA™ X2 a new Windows® phone that offers a best in class email and multimedia experience. In the modern world where 24/7 communication is key, users can instantly synchronise their mail and calendar and open and edit Microsoft® Office Mobile documents quickly and efficiently to stay connected with colleagues wherever they are.

The XPERIA™ X2 also includes the unique SlideView feature, which provides quick access to frequently used phone activities. Providing quick interaction with contacts, messages, media and more, SlideView gives an overview of missed incoming activity, notifying the user of any missed calls, e-mails and text messages so users don't overlook an important contact.



With 14 specially designed preloaded XPERIA™ panels and 16 more to download, users can work with no boundaries with the XPERIA™ X2. From Skype, Mytopia and Google™, to games, CNN and Windows Live™, the panels ensure users are up-to-date with what matters most to them. With an improved touch interface and new 3D signature panel users also benefit from flexible desktop panels designed to categorise business, fun and communication features. Just set favourites to appear during certain times of the day and can get the latest news in the morning, YouTube™ at lunchtime and games for the journey home.

Powered by QWERTY messaging, Windows Mobile® users can even show their presentations on the big screen with the TV out cable - the XPERIA™ X2 makes a day at the office a walk in the park.

"In the fast moving world we live in, the need to stay connected has never been so important." said Sumit Malhotra, marketing business manager, Sony Ericsson. "We constantly rely on our mobile phones as an extension to the office and the XPERIA™ X2 debuting with Windows Mobile® 6.5, allows users to work quickly and efficiently while on the move. The XPERIA™ X2 also features a new range of interactive panels as well as SlideView, which provides quick access to frequently used phone activities – perfect for those who need to see any missed incoming activity at a glance."



Entertainment is not compromised on XPERIA™ X2. Enjoy amazing multimedia with the 3.2" high resolution touch screen and DVD quality and take advantage of the 8.1 megapixel camera to capture and instantly share experiences with friends and family. Personalise the panels and users can access Facebook™ to upload their party or holiday images and they can chat with friends across the world via Skype. Whether it is music, photography, email, video or gaming the XPERIA™ X2 has it all.

"Windows® phones allow people to manage their whole world – from work to home to play – on a single handset," said Stephanie Ferguson, general manager, product management, Microsoft Corp. "The XPERIA™ X2 taps the powerful messaging and multimedia capabilities in Windows Mobile® so customers can be in touch, productive and entertained wherever they are."

With the need to stay connected 24/7 Sony Ericsson has designed XPERIA™ Services, a bespoke and unique after sales package designed to help XPERIA™ X2 users get the most out of their mobile phone. With a specialised technical team standing by to support busy users and talk through the outstanding features the XPERIA™ X2 has to offer users can get help from troubleshooting to how to access their favourite websites. And if their XPERIA™ X2 stops working while they are abroad, XPERIA™ Services can replace the mobile phone via a simple phone call.
XPERIA™ Services really has been devised with the consumer in mind and to help consumers discover more about their XPERIA™ X2.



XPERIA™ X2
Live life without boundaries

* Windows Mobile® 6.5 – work on the move easier
* Make the most of the day – flexible desktop panels categorised for life: communication and fun, multimedia, business and internet
* Work without boundaries – instant synchronisation of mail, calendar powered by QWERTY keyboard messaging and Windows Mobile®
* Slide view – quick access to frequently used phone activities and overview of missed incoming activity
* Present documents on the big screen – TV out cable
* Never get stranded - XPERIA™ exclusive travel insurance
* Enjoy amazing multimedia – 3.2" high resolution touch screen and DVD quality
* 8.1 mega pixel camera with Photo light – easily upload images to web albums
* Real 3D panel – 3D effects and zoom, music playback controls

Big business meeting? Arrive charged with the Car Charger AN300 – ultra fast, ultra-safe and ultra-reliable. A perfect accessory for the XPERIA™ X2, it charges 40 per cent faster than most car chargers – just plug into the cigarette lighter and go.

XPERIA™ X2 supports GSM/GPRS/EDGE 850/900/1800/1900 and UMTS/HSPA 850/900/2100. XPERIA™ X2 will be available in selected markets from early Q4 in the colours Elegant Black and Modern Silver.

The Sony Ericsson XPERIA X2 at a glance

XPERIA X2
Camera

8.1 megapixel camera
Up to 16x digital zoom
Auto focus
Geo tagging
Image stabilizer
Send to web
Touch focus
Video light
Video recording

Music

Album art
Bluetooth stereo (A2DP)
Equalizer
Sony Ericsson media player
Music tones (MP3/AAC)
Equalizer
Sony Ericsson media player
Music tones (MP3/AAC)
PlayNow arena
Stereo speakers
Windows Media Player

Web

Bookmarks
Google search
Internet Explorer
Pan & Zoom
Web feeds

Communication

Call list
Conference calls
Polyphonic ringtones
Speakerphone
Vibrating alert

Messaging

Email
Microsoft Exchange ActiveSync
Handwriting recognition
Instant messaging
Picture messaging (MMS)
Predictive text input
Text messaging (SMS)

Design

Auto rotate
Media
Picture wallpaper
Touchscreen
Wallpaper animation
Windows Mobile 6.5

Entertainment

3D games
Java
Motion gaming
Tracker
Video streaming
Video viewing
YouTube application

Connectivity

Bluetooth technology

DNLA Certified
Google Maps
Modem
Synchronisation
TV out
USB mass storage
USB support
Wi-Fi

Organizer

Adobe PDF Reader
Alarm clock
Calculator
Calendar
Flight mode
Microsoft Office Mobile
Notes
Phone book
Stopwatch
Tasks
Timer

Accessories
In-Box:

XPERIA X2
Battery
Battery Charger
Stereo Portable Handsfree MH500
USB cable
TV out cable
4GB SanDisk microSD memory card
User guide

Optional accessories:

Bluetooth Headset PV740
Car charger AN300
Video Viewing Stand IM920

Facts and Figure

Colours: Elegant Black, Modern Silver

Main screen: 65,536 colour TFT
Resolution: 480 x 800 pixels (WVGA)
Size: 3.2 inches

Phone memory: Up to110MB
Memory card support: SanDisk microSD and microSDHC, up to 16GB

Talk time GSM: Up to 10 hrs
Standby time GSM: Up to 500 hrs

Talk time UMTS: Up to 6hrs
Standby time UMTS: Up to 640hrs

Music listening time: Up to 20hrs

Availability and versions
Networks:

XPERIA X2
GSM/GPRS/EDGE 850/900/1800/1900
UMTS/HSPA 850/1900/2100

GSM/GPRS/EDGE 850/900/1800/1900
UMTS/HSPA 900/1900/2100

Available in selected markets from early Q4 2009.

{mosmodule video=http://www.youtube.com/v/LA8BQod9AiI}

via Sony Ericsson