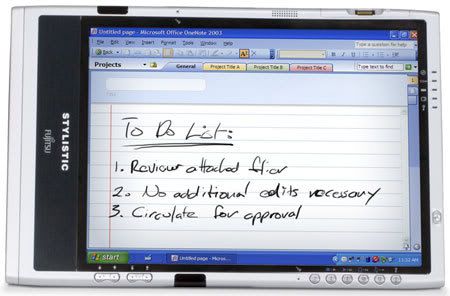 Fujitsu announced the Stylistic ST5111 and ST5112 Tablet PCs, the first slates on the market to offer the latest Intel Core Duo Mobile Technology, delivering maximum power, performance, and battery life.

Ideal for project-based applications, as well as for mobile professionals in markets including healthcare and field and sales force automation, the 3.5-pound Microsoft Windows-Vista capable thin and light slates save time and reduce data-entry errors.

With a choice of state-of-the-art display technologies, text and graphics can be easily seen under various lighting conditions. The Stylistic ST5111 Tablet PC features a 10.4-inch screen, the largest front-lit reflective display in the industry. The XGA TFT display provides outstanding outdoor viewing and is optimized for direct sunlight conditions. The Stylistic ST5112 Tablet PC offers a 12.1-inch bright transmissive indoor/outdoor XGA display with greater than 160° wide viewing angles, allowing for consistent image quality at varying angles.
Less than an inch thick, the durable and reliable Stylistic ST5100 Tablet PCs are fortified with a high-quality magnesium-alloy lower housing. Data is protected with the new Fujitsu Shock Sensor utility, an accelerometer-based hard disk drive protection system that retracts the hard drive head if a sudden movement or vibration is detected, reducing the possibility of data loss. The sensor can also be set to password-lock the system if it is touched, preventing the unauthorized access of data.

"The Stylistic ST5100 Tablet PCs, with their durable, slim form factor, renowned Fujitsu reliability, and the latest mobile technology continue their industry status as best-in-class," said Paul Moore, Senior Director of Mobile Product Marketing, Fujitsu Computer Systems. "Whether it's in a hospital or out in the field, a Stylistic ST5100 epitomizes the ultimate in on-your-feet computing, with perfect balance and intuitive ease–of-use features."

Stylistic ST5100 Tablet PCs are packed with security features including embedded Trusted Platform Module (TPM), a dedicated Smart Card slot, Fujitsu Security Application Panel, two-level hard drive password, BIOS-enabled Computrace/LoJack theft recovery service support, and a universal lock slot.

Intuitive one-touch application buttons, pen and inking capabilities, and a new pen designed with an eraser top ensure maximize productivity. Long workdays are easily accommodated with a standard 6-cell standard battery delivering up to 6 hours of computing time or a high-capacity 9-cell battery for up to 9 hours of battery life.


With a flexible form factor, Stylistic ST5100 Tablet PCs can be used like a notepad with minimal weight and bulk, or a keyboard can be added for a more familiar notebook feel. With the optional tablet dock, the system can be transformed into a complete desktop solution. The dock supports both portrait and landscape modes, immediate undocking for grab-and-go computing without rebooting, multiple plug-and-play ports, plus an option for modular optical drives.

Connecting to the office network or the Internet is easy with an integrated Gigabit Ethernet modem. Or chose to connect wirelessly with either the Intel PRO/Wireless 3945ABG or Atheros Super AG (802.11a/b/g) wireless LAN. A diversity antenna provides excellent data transfer rates. With optional embedded Bluetooth technology, wireless connections to peripheral devices are conveniently established.

Price and Availability
The Fujitsu Stylistic ST5111 Tablet PC is priced at $2,429 for a base configuration, and the Stylistic ST5112 Tablet PC is priced at $2,199 for a base configuration. Both Tablet PCs are immediately available through the Fujitsu direct sales force, website, channel partners and select retail outlets. Users can choose from a recommended configuration, or they can customize their system using the Fujitsu Configure To Order (CTO) program. See http://www.computers.us.fujitsu.com/store/index.shtml for further information.


Fujitsu ST5111

Fujitsu ST5111

Fujitsu ST5111